Effects of HIV infection and ART on phenotype and function of circulating monocytes, natural killer, and innate lymphoid cells
AIDS Research and Therapy
2018
15:7
Received: 4 September 2017
Accepted: 9 March 2018
Published: 15 March 2018
Abstract
HIV infection causes upregulation of markers of inflammation, immune activation and apoptosis of host adaptive, and innate immune cells particularly monocytes, natural killer (NK) and innate lymphoid cells (ILCs). Although antiretroviral therapy (ART) restores CD4 T-cell counts, the persistent aberrant activation of monocytes, NK and ILCs observed likely contributes to the incomplete recovery of T-cell effector functions. A better understanding of the effects of HIV infection and ART on the phenotype and function of circulating monocytes, NK, and ILCs is required to guide development of novel therapeutic interventions to optimize immune recovery.
Keywords
HIVInnate immunityMonocytesNatural killer cellsInnate lymphoid cellsAntiretroviral therapy
Background
The human innate immune system is comprised of a complex network of cellular and soluble proteins that work together to provide the first-line of defense against common invading pathogens prior to involvement of the adaptive immune response [1–3]. Innate immune cells including monocytes, natural killer cells (NK), innate lymphoid cells (ILCs), and other antigen presenting cells (APCs) play a crucial role in the ushering in the adaptive arm of the immune response [4, 5]. In particular, monocytes are precursor cells to professional APCs involved in immune surveillance [6]. In addition, they have pattern-recognition receptors (PRRs) that detect conserved pathogen-associated molecular patterns (PAMPs) which lead to the induction of inflammatory responses that combat invading pathogens [7]. Natural killer cells produce cytokines; particularly interferon-gamma (IFN-ɣ) which activates phagocytic cells and primes APCs for interleukin 2 (IL-2) secretion thus shaping adaptive immunity towards a T helper 1 (Th1) response [8, 9]. ILCs rapidly secrete immunoregulatory cytokines which makes them provide protective immunity early on during infection [10] and also maintain intestinal homeostasis by directly regulating T cells through the presentation of peptide antigens on major histocompatibility complex II [11].
During HIV infection, the adaptive immune system is directly affected through the rapid infection of CD4 T-cells [12] but the effects on the innate immune system are more indirect through microbial translocation, inflammation, and immune activation [13]. Immune activation and inflammation cause a reduction in the numbers of monocytes, NK and ILCs, consequently leading to poor innate and adaptive immune responses, all which result in suboptimal response to infecting antigens [14].
Antiretroviral therapy (ART) suppresses HIV replication, restores CD4 T-cell numbers, reduces microbial translocation, inflammation, and aberrant T-cell activation [15–17]. The net effect of this is the near restoration of the immune system to pre-infection status and control/prevention of opportunistic infections and other AIDS-associated ailments [18, 19]. Several studies have however demonstrated incomplete recovery of the adaptive immune responses including ours which showed lower CD4 T-cell proliferation among ART-treated adults (with CD4 counts restored to 500 cells/µl and more), relative to their HIV-negative counterparts [19–21]. Innate immune cells; in particular NK cells, ILCs and monocytes, participate in the initiation and development of adaptive immune responses although little is known about their recovery during ART. This review discusses the recovery of monocytes, NK and ILCs during ART, because of their respective contributions to the regulation of the adaptive immune response.
Figure
1
summarises the effects of HIV infection and ART on monocytes, NK cells, ILCs, and other innate cells. Persistent inflammation and activation of monocytes, NK cells, and ILCs is likely associated with the persistent T-cell activation and impaired effector functions observed among ART-treated adults [
20
–
22
]. There is likely a unique phenomenon of innate immune cell recovery during ART, among residents in sub-Saharan Africa (SSA) where several endemic infections activate the immune systems. A better understanding of innate cell dysfunctions and their effects on the adaptive responses during ART would guide the development of innovative therapeutic intervention to optimize recovery of host immune responses.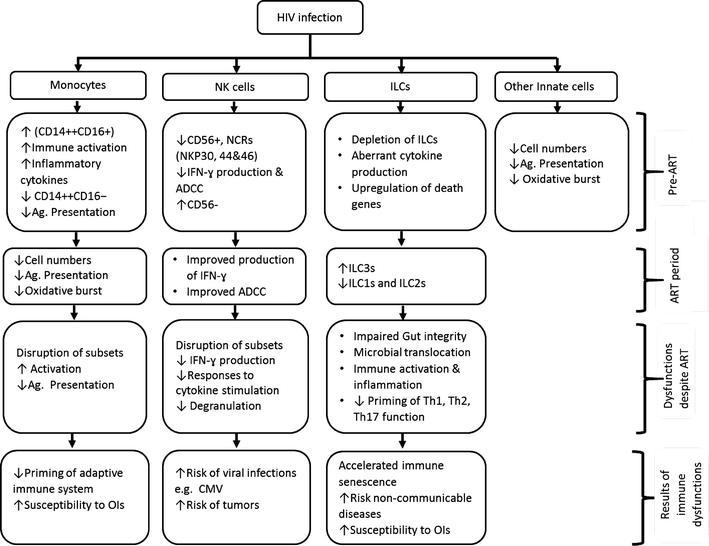 Conclusions
HIV infection disrupts phenotypes and functions of monocytes, NK cells and ILCs, and subsequently the related adaptive host immune responses. ART restores some phenotypic and functional abnormalities associated with HIV infection, although persistent disruption of phenotypes and function of monocytes, NK cells, and innate lymphoid cells have been observed among populations of ART-treated adults. A further understanding of specific persistent innate immune cell phenotypic and functional abnormalities during ART is required to inform innovations in immune modulation interventions to optimize recovery of both innate and adaptive immune system. Similarly, a further understanding of the drivers of persistent immune activation is required to inform strategic therapeutic interventions to minimize its complications, particularly in sub-Saharan Africa where other infectious causes of immune activation such as malaria, tuberculosis and helminthic infections are still endemic.
Declarations
Authors' contributions
RN, SC, MJ, SRJ, DN contributed to the conceptualization and execution of the review. RN and DN drafted the manuscript. All authors reviewed manuscript for publication. All authors read and approved the final manuscript.
Acknowledgements
The authors also acknowledge funding from the Alliance for Global Health and Science at the University of California, Berkeley, USA and the Wheeler Center for Emerging and Neglected Diseases, University of California, Berkeley, USA that funded our research to further understand Natural Killer cells and Innate immune cells during ART.
Competing interests
The authors declare that they have no competing interests.
Availability of data and materials
Not applicable.
Consent for publication
Not applicable.
Ethics approval and consent to participate
Not applicable.
Funding
This work was supported through the DELTAS Africa Initiative [Grant# 107743/Z/15/Z], that funded Damalie Nakanjako and Rose Nabatanzi through a group leader award. The DELTAS Africa Initiative is an independent funding scheme of the African Academy of Sciences (AAS)'s Alliance for Accelerating Excellence in Science in Africa (AESA) and supported by the New Partnership for Africa's Development Planning and Coordinating Agency (NEPAD Agency) with funding from the Wellcome Trust [Grant #107743/Z/15/Z] and the UK government. The views expressed in this publication are those of the author(s) and not necessarily those of AAS, NEPAD Agency, Wellcome Trust or the UK government.
Publisher's Note
Springer Nature remains neutral with regard to jurisdictional claims in published maps and institutional affiliations.
Open AccessThis article is distributed under the terms of the Creative Commons Attribution 4.0 International License (http://creativecommons.org/licenses/by/4.0/), which permits unrestricted use, distribution, and reproduction in any medium, provided you give appropriate credit to the original author(s) and the source, provide a link to the Creative Commons license, and indicate if changes were made. The Creative Commons Public Domain Dedication waiver (http://creativecommons.org/publicdomain/zero/1.0/) applies to the data made available in this article, unless otherwise stated.
Authors' Affiliations
(1)
Department of Immunology and Molecular Biology, Makerere University College of Health Sciences, Kampala, Uganda
(2)
MRC/UVRI Uganda Research Unit on AIDS and London School of Hygiene & Tropical Medicine, London, UK
(3)
Nuffield Department of Medicine, University of Oxford, Oxford, UK
(4)
Department of Medicine, Makerere University College of Health Sciences, Kampala, Uganda
(5)
Infectious Diseases Institute, Makerere University College of Health Sciences, Kampala, Uganda